Originally located on Fennell Avenue and Upper Ottawa in Hamilton, La Rondine Gift Store was purchased from Carmela Scopinaro in June of 2018 and has since moved to 38 Wilson Street West in Ancaster.
Because of Carmela's 40+ years of experience in the gift and children's special occasion-wear industry, she remains as La Rondine's Sales Consultant.  A great friendship has evolved between her and new owner Angela Febbraro, and together, their passion to make customers happy and their creativity are qualities that are unmatched. Her legacy continues in this new chapter at La Rondine Occasions Inc. alongside Angela.
As a proud family-owned business, our mission and focus is to always provide our customers with memorable in-store experiences when shopping for their special celebrations. We know children of all ages usually dread shopping for formal wear – which is why we pride ourselves in making it simple, easy and fun! Your child will leave with cheerful memories of shopping for their special day, which will make you happy, too!
Visit us for your next special occasion or contact us for more information on our product selection.



THANK YOU FOR VOTING FOR US FOR THE LAST 4 YEARS!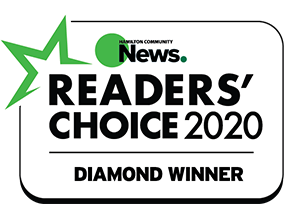 What our customers are saying about us
"Thank you for making our daughters communion dress shopping day so special! You ladies took so much time with her, you made her feel like a princess and helped us make this day magical for her. Shopping for my own wedding dress wasn't as lovely as this trip was."
– Deandra C
"We came from Niagara Falls to shop for my son's confirmation suit. Amazing experience and great location. Thank you for making my son feel welcome and comfortable. Great service and attention to detail. Staff is welcoming and knowledgeable. Overall great experience!"
– Maria C
"Love the new location and the "boutique" feeling the store has to offer. The clothing selection is amazing, and my customer service experience was wonderful. I would totally recommend this store for all of your special sacrament wear and also gift giving occasions."
– Teresa M